NORTH
Short Film - Director - 2018
Inspired by the works of Jack London and John Muir, this film charts an expedition through the natural landscape.
Sound by NICK HARBOURNE.
Assistance by ABIGAIL LAMB.
MAKING OF NORTH
During the initial design stages, North was much more of a character study. Inspired by the work of author Jack London, it focussed largely on the struggles of a man in the harsh wilderness, far from home. However, as preproduction continued, I realised it was not the man I was most interested in, but the landscape he inhabits.

STORYBOARDS
Storyboards were greatly important in the production of North. Not only were they key to planning the natural rhythm of the narrative, but to lay out distinct compositions which could flow into one another. I wanted to capture a real sense of place and the desired visual aesthetic, even in the early stages. Once these boards were honed, little changes were made.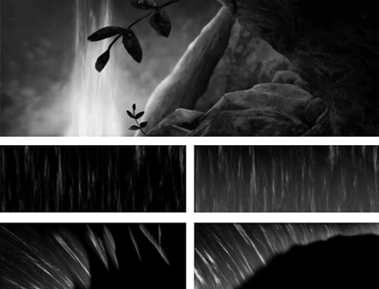 PRODUCTION
North was created using a digital toolset to combine digitally-painted assets and hand-drawn animation. While certain aspects, such as flowing water, were easy to convey through still images, it took a fair bit of experimentation to get the look I was going for. I eventually settled on an iterative approach: mixing painted textures and generated planes in After Effects. Much of the film used this approach, adding little touches to make each scene feel less static.
FURTHER DEVELOPMENT
While I'm pleased with the outcome, there's so much more that I want to do with this project. With this in mind, over the last few months I've been gradually sketching out new ideas, and new landscape-based narratives to return to this world.